The first Ingham that we have records of is
James Ingham
who was born in England in about 1760. He was married to Marry (Unknown last name). They had 5 children, William, George, James, John and Hepsey. From the 1851 English census we know that James was born in Sorby, Yorkshire, England, and he is still living in Yorkshire in 1851, 1861 and in 1871.
As can be seen by the map on the right, Yorkshire today is divided into three separate counties, North Yorkshire, West Yorkshire and East Yorkshire. Sorby would be in what is today West Yorkshire.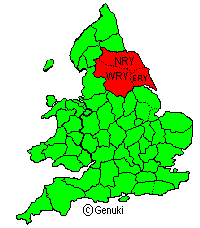 James the son of James worked in the Cotton Milles of Yorkshire, and moved around within Yorkshire. He married first Elizabeth Milne and had eight children. He later married Elizabeth Watson.
Two of the sons of James, John and Henry were the first Inghams to come to the United States.
During the American Civil War (1860-1865) the North blockaded all shipping into and out of the Southern United States. This caused a shortage of Cotton in England, and almost bankruped the cotton weaving industry. This was called the Catton Famine. This could be the reason Henry Ingham left Yorrkshire.

Henry came to America in about 1866, and in the 1870 US census he is living in Brooklyn, NY with his wife Nancy Sugden and three children, John, Elizabeth and James all born in England. Henry was a Carpet Weaver, and work at that trade in England, and then in Philadelphia, Pennsylvania according to the 1880 US Census.
Henry's son John met Laura Jane Jacobs in Philadelphia and married her in 1888. Laura was the daughter of George and Mary Clymer Jacobs. George was also in the Weaving business, and is listed as a Carpet Weaver in the 1861 and 1871 English census and in the 1880 US Philadelphia census. The Jacobs has also live in Yorkshire, England prior to coming to America. The Jacobs came to the United States in about 1878 from England after residing in Canada for about five years where Laura's brother George was born in 1877. Laura had four brothers, Albert, Victor, Clymer and George.
John and Laura both lived with their parents in Philadelphia in 1880, and lived in Heightstown New Jersey in 1900. They had five sons, but only Albert, Arthur and William lived to maturity. Arthur was Ken's Grandfather, and like most of his family worked in the Woolen Mills. He lived most of his life in Jamestown, NY. By 1920 John and Laura moved to Orange County, California, where they lived out the remainder of their days.
Meanwhile John the son of James came to America in 1882 by himself, and his wife Emma Gee joined him in October of 1883 arriving on the S. S. British Prince with three of her sons. John also worked in the Woolen Miles in England, then in Philadelphia. All together they had five children, Elizabeth, Alice, Henry, George and James.
James the son of John moved to Jamestown, NY in the 1890, and married Gertrude Wheeler in 1895. He like others in his family worked in the Woolen Mill, and became superintendent of the mill in which he worked. They had three children James Wortley, Henry Wolcott and Maryon Geraldean.